Dentures
Stop the Challenges of Tooth Loss
When you are missing even one tooth, your confidence is not the only area that suffers. Your oral health is negatively compromised as well. Every tooth has an important role in proper dental functions and health. When you are missing one or more, it can make chewing difficult. As a result, you may have to avoid certain foods, which can lead to nutritional deficiencies.
Gaps in your smile also cause your remaining natural teeth to lose support due to bone recession in the jaw. This can cause your teeth to shift toward the open space, leading to alignment issues. This makes them more difficult to clean, increasing your risk for tooth decay and gum disease. Over time, it can also lead to additional tooth loss.
With partials or dentures in San Marco, FL, you can stop the challenges of tooth loss.
Partials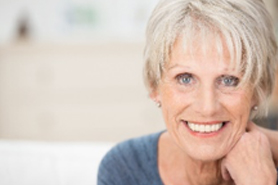 Partials allow you to fill the space of several missing teeth. Prosthetic teeth are featured in a gum-colored base that has been made using impressions of your mouth. It is attached to a metal framework, which is held in place using the adjacent teeth as support.
This provides a simple, affordable, and effective means to complete your smile. Now, advancements in dentistry allow them to look more natural than ever so they will blend in with your remaining teeth for a flawless look while promoting your ability to chew, speak, and smile with confidence.
Dentures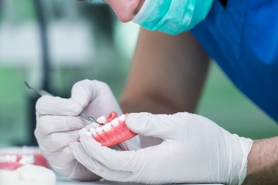 When all your teeth are missing on the top or bottom arch, dentures provide the perfect solution. Using impressions of your mouth, a gum-colored arch is created, which features the prosthetic teeth. Using suction or an adhesive, it is securely held in place.
While they often have a bad reputation for looking and feeling fake, your dentist in Jacksonville uses the most advanced technology to improve their appearance and function. Now, they look and feel more natural than ever before while providing an affordable and convenient solution to treat your tooth loss.
Stop Living with Tooth Loss Today!
If you are ready to stop feeling insecure about the empty spaces in your smile, it is time to see if dentures or partials are the right solution for you. Dr. Brotman will perform a comprehensive examination to ensure that you are a candidate. With a customized treatment plan, he will restore your confidence with a completely natural-looking smile.
Contact our dental office today to schedule your consultation for a beautiful smile.