Restorative Dentistry
Repairing Smiles for Flawless Function
Visiting your dentist for regular checkups and cleanings combined with a solid hygiene routine at home will go far in protecting your teeth from decay, but you may still experience cavities or injury at some point. When something gets in the way of your excellent smile health, Dr. Sol G. Brotman is prepared with services in restorative dentistry in San Marco, Jacksonville, FL. Patients in Northeastern Florida, including Jacksonville, Duval County, and the First Coast Region should contact us for superior restorative services.
Traditional Dental Crown & Bridge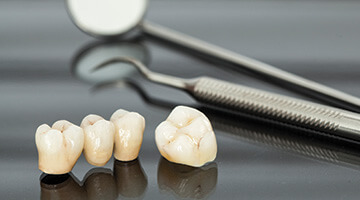 Crowns and bridges can repair and replace damaged or missing teeth. A crown is a thin, tooth-shaped covering that is bonded securely to a damaged tooth. Two or more crowns affixed together form a dental splint. If the crowns fill a gap in the smile using the surrounding natural teeth as anchors, that forms a bridge over the space in between. Crowns and bridges are created and placed over two visits to our dental office and can last for many years with proper maintenance.
Tooth-Colored Fillings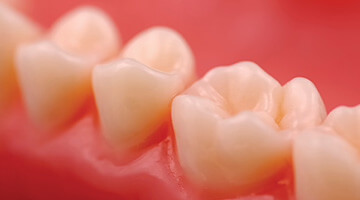 You may be wearing the visible evidence of past cavities in the form of silver, or amalgam, fillings. These dark gray spots take away from the beauty of your smile. Tooth-colored fillings offer a more conservative and visually-appealing alternative. The shade of composite resin is closely matched to your surrounding tooth enamel and requires less removal of the healthy tooth structure before placement. In addition, our dental office places silver fillings where appropriate for strength and longevity.
Dentures & Partial Dentures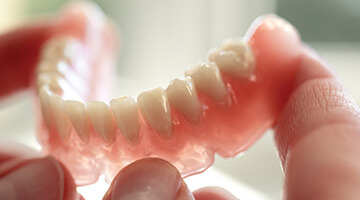 Dentures are prosthetic teeth attached to a plastic base that looks like your gum tissue. A partial denture replaces multiple missing teeth when some healthy teeth still remain in the gum line, while a full denture takes the place of an entire row in the upper or lower jaw. The partial clicks into place like a missing puzzle piece; a complete denture is held in place with suction. A denture adhesive can provide additional security. Dentures are a quick, effective method for tooth replacement.
Dental Implant-Supported Crown or Bridge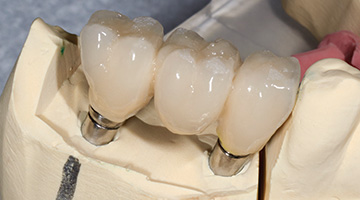 While the fixed bridge offers a fine tooth replacement solution for many patients, dental implants provide unsurpassed stability and strength for the best results in many instances. A crown or fixed bridge supported by dental implants does not require the alteration of the surrounding natural teeth, meaning more of your healthy smile stays intact. A dental implant-supported crown or bridge closely mimics your natural tooth structure for a sturdy, attractive, and long-lasting solution to single or multiple tooth loss.