TMJ/TMD Therapy
Relieve Jaw Pain & Restore Your Smile
A clicking, popping jaw is more than annoying -- it can be an indicator of a group of conditions known as TMJ/TMD. Temporomandibular joint dysfunction can cause severe pain and can affect your ability to eat and speak properly. These conditions may be due to nighttime teeth grinding and a host of other issues affecting your oral and overall health. Find relief from Dr. Sol G. Brotman, who provides TMJ/TMD therapy for San Marco, Jacksonville, FL dental patients and those from all over the Southeastern United States.
Diagnosis & Treatment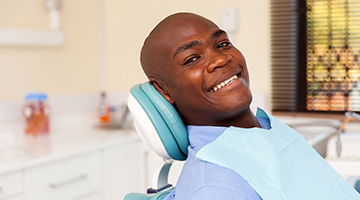 TMJ dysfunction is a group of common conditions that occur when the joints or muscles connecting the jaw bone to the skull become strained or injured. Stress, facial injury, and certain dental misalignments can all lead to TMJ-related pain.
Symptoms of TMJ dysfunction include…
Difficulty opening the mouth wide
A clicking or popping sensation upon opening and closing the jaw
Migraines or chronic headaches
Nighttime teeth grinding
Frequent jaw pain
Multiple tooth sensitivity
If you suspect you have a problem with your TMJ, you may be surprised to learn that your dentist is a nationally recognized expert in diagnosing and treating the jaw conditions. Schedule an appointment with Dr. Brotman's dental office right away. We will discuss your symptoms, and examine your jaw, bite, head, and how your TMJ functions upon opening and closing.
If it is determined that you have TMJ/TMD, we will discuss conservative treatments for relieving your pain and preventing the issue -- one of the most effective for many conditions is the occlusal splint.
Occlusal Splints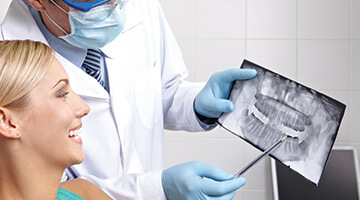 Conservative TMJ/TMD therapy treatment works by preventing further stress to the TMJ and reducing jaw clenching and teeth grinding. The occlusal splint is a noninvasive therapy that allows your TMJ to relax, while also protecting your teeth from bruxism. It is a plastic mouthpiece that fits over the teeth, and its custom-fit means it is comfortable for increased compliance.
Occlusal splints come in a number of types and designs, and the one that is right for you depends on the extent of your TMJ/TMD as well as your particular oral structures. Occlusal splints reduce the painful symptoms of the jaw condition by creating a new bite surface to reduce the strain on the TMJ. Be wary of over-the-counter splints as they can make your condition worse by being too thick or not allowing your jaw to move naturally.
Benefits of occlusal splints include:
Conservative, reversible treatment
Nonsurgical
Custom-fitted to your jaw and oral structures
Available in a number of options
You don't have to live with a painful, clicking jaw any longer. Turn to Dr. Brotman for a diagnosis and treatment! Schedule an appointment in Northeastern Florida today.
Facial Pain Treatment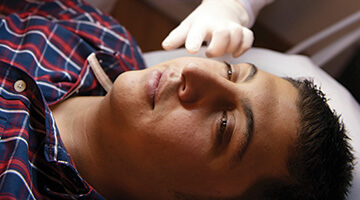 In addition to headaches, teeth grinding, and ear pain, facial pain may occur as a result of long term TMD, other muscular or neurologic problems. Dr. Brotman has extensive training and experience treating facial pain related to TMJ/TMD, muscles and nerves. He is so well-known in the field that he has continually taught at Dental School Facial Pain Centers since 1993, providing crucial education and raising awareness about proper treatment methods of TMJ/TMD-related pain.
Treating facial pain requires a multidisciplinary neurological approach. Oftentimes, patients visit Dr. Brotman after they have been unable to find relief with other professionals -- many have lived with facial pain for decades. Dr. Brotman works with highly-trained specialists and may combine medication with vital pain-management techniques. He always uses conservative, reversible treatments to ensure that if the method does not provide relief from facial pain, you can move onto another option in search of the solution you need.