Professional At-Home Teeth Whitening
Brighten Smiles Up to Ten Shades
If you've seen the numerous commercials for teeth whitening strips, pastes, and gels available from your local pharmacy, you know that teeth whitening is a popular cosmetic dentistry solution. In fact, it may be the most popular treatment available. At the dental office of Sol G. Brotman, DDS, MAGD, we offer a wide range of cosmetic dental solutions to deliver flawless smiles, including professional at-home teeth whitening in Jacksonville, FL that delivers smiles up to ten shades brighter in just about two weeks. If you want to brighten your smile, call our dental office to schedule a cosmetic dentistry appointment with Dr. Brotman and his skilled and caring dental team. We'll help you achieve the flawless smile you deserve.
Causes of Dental Discoloration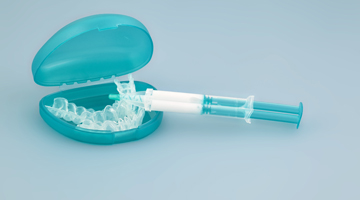 There are a wide variety of reasons teeth become discolored, and in order to provide the best treatment, we need to understand and address the underlying causes of dental discoloration in order to achieve the best results. Some of the most common causes of dental discoloration include:
Consumption of darkly colored foods and drinks
Age and dental wear that thins tooth enamel and reveals the yellow dentin layers of teeth
Fluorosis, the over consumption of fluoride during dental development, leaves brighter white spots on teeth
Tetracycline medications taken before the age of three can cause dark staining
Damage to the inner, pulp, layers of teeth can create dark staining on the tooth's surface
How Professional Teeth Whitening Works
Teeth whitening uses hydrogen or carbamide peroxide to brighten smiles through oxidation. This chemical process lifts deep set staining from the porous surfaces of dental structures. Think about the way peroxide bubbles when it's placed on a cut. This bubbling action removes infection below the surface. The same bubbling effect occurs when peroxide is used in teeth whitening, and it lifts stains off the surfaces of teeth. In order to keep the saliva from neutralizing the peroxide before it has time to remove stains, it's important that the teeth are isolated. Custom crafted application trays ensure whitening gel stays in place on teeth and prevents saliva from neutralizing the whitening gel before it has time to deliver the desired whitening results.
Benefits of Professional Whitening VS Store Bought Whiteners
While some patients can achieve results using over the counter whitening products, these results are not as predictable, and they aren't able to brighten smiles as effectively as professional whitening solutions. Some of the benefits of professional teeth whitening include:
Predictable results up to ten shades brighter
Safer treatment under the observation of a trained cosmetic dentist
Long lasting results and built in follow up plans to keep smiles bright for years
Reduced risk for dental sensitivity
Maintaining Your Results
Once you've achieved your desired results, we'll likely recommend you complete follow up treatments a few times every year. This will allow you to keep the brilliant white smile for years to come. It's also important that you take special care with your daily hygiene routine, brushing at least two times a day and flossing daily. You will also need to visit our dental office at least twice a year for checkups and professional teeth cleanings. For best results, consider limiting or cutting out darkly colored foods and drinks that can stain tooth enamel.