Traditional Dental Crowns & Bridges
Flawlessly Restored Smiles
A dental crown is a cap that is cemented over a damaged or mispositioned tooth to restore its size, shape, health, and beauty. The crown fully encases the tooth down to the gum line. Two or more crowns can also hold a dental bridge in place when tooth replacement is needed. Dr. Sol G. Brotman places traditional dental crowns and bridges for San Marco, FL patients.
Procedure for Dental Crowns & Bridges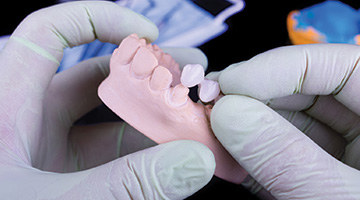 Dental Crowns and bridges are placed over two visits to Dr. Brotman's dental office. On the first visit, the tooth is prepared for its restoration. Preparation involves removing tooth structure to create a shape that accommodates the crown to fit on top. Dr. Brotman will take impressions and x-rays of your tooth, and you leave the first visit with a temporary crown.
In the time between visits, your crown or bridge is crafted in our local partner lab. The restoration can be made of several materials, including all-porcelain, porcelain-fused-to-metal, gold, or metal alloys. All-porcelain is a good choice when cosmetics are a primary concern, while gold and metals provide extra stability for teeth in the back of the smile, which incurs more force while chewing.
After the dental crown or bridge has been prepared, you return to Dr. Brotman's dental office for its placement. We'll remove the temporary crown and check to make sure the new crown or bridge looks and fits just like it should. Any necessary final adjustments are made before the restoration is cemented in place.
Considerations During Dental Treatment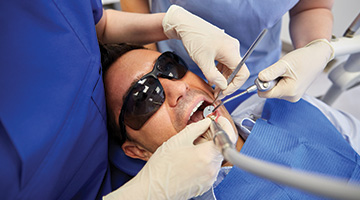 Some tips to keep in mind throughout the treatment for your crown or bridge…
Take care of your temporary crown(s) in the time between appointments. Try to avoid eating hard, sticky, chewy foods altogether.
Brush as usual with your temporary crown or bridge. Do not floss around the temporary.
Let us know immediately if your temporary crown or bridge moves, comes off or breaks.
Maintaining Your Dental Crown & Bridge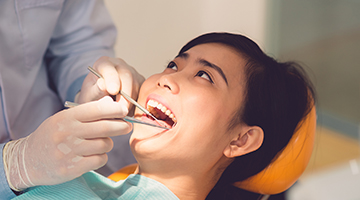 Cavities won't form on your new restoration, but the rest of your tooth at the end of the crown or bridge remains vulnerable to decay, and your gums are always at risk of gum disease. Continue to brush for two minutes, twice a day, and floss daily for solid oral health. Concentrate on the area at the base of the crown or bridge to prevent plaque and bacteria buildup.
Do you need high-quality restorative dental care? Contact our dental office today.