Digital Dental X-Rays
See Your Smile More Clearly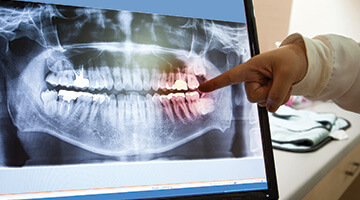 Digital radiography is an important aspect of our goal to provide conservative dentistry. With digital x-rays, we can capture a highly-accurate image of your teeth and jawbone, without exposing you to any unnecessary radiation. In fact, digital x-rays in San Marco, Jacksonville, FL reduce radiation exposure by as much as 85 percent. Our dental office uses Schick digital x-ray technology to get an in-depth look at your smile.
In addition to reducing your exposure to radiation and providing us with a more detailed image, Dr. Brotman and his dental team also appreciate digital radiography because it does not require the use of chemicals for developing. Digital images are easily stored and transferred between dental offices for when we need to refer you to an outside specialist.
Patients of all ages benefit from digital radiography technology -- and you and your family can, too. Please get in touch with our Jacksonville, FL dental office to schedule an appointment in Northeastern Florida, Duval County, and the First Coast Region today!